Cleanliness, Contracts and Policy: Getting Ahead of The Rapidly Changing Airline Industry
What we know: The airlines will be forever changed.
What's unclear: Where and how travel managers can help drive positive end results by being proactive on adapting to this change.
We sat down with Mike Heck, Fox Vice President of Supplier Solutions to discuss airlines, contracts, policy and how travel managers can proactively help influence positive change for their organizations.
________________________________________________________________________________________________________
Fox:  Mike, you serve as Fox's VP of Supplier Solutions.  What does that role entail?
Heck:   I serve as the point person between Fox and our supplier partners in both the business and vacation channels.  My primary role is to make sure that Fox customers receive the best possible programs and service from our suppliers.
Fox: Mike, there are hundreds of articles every week on the impact COVID-19 is having on the travel industry, specifically airlines. What can you tell us at the highest level that our customers should know?
Heck:  First and foremost, I would like to speak to cleanliness.  The industry has always had very high standards in this area.  While not as impactful, the airlines have dealt with multiple viruses in the past.  COVID-19 of course is unique.  It has caused the airlines to pivot and take their already high cleanliness standards to a new level.  While this is great, there are some inconsistencies.  Some airlines are blocking center seats, others are not.  Some airlines implement electrostatic spraying after every turn, while others spray once a week.   The message to our customers is to stay engaged with your Fox client solutions manager to guide you through this ever-changing environment.
Fox: You mention electrostatic spraying.  What specifically is that?
Heck: Electrostatic spraying provides a safe and effective way to thoroughly clean an aircraft cabin from floor to ceiling, sanitizing areas that employees and customers frequently touch.  These sprayers electrically charge and disperse liquid disinfectant in a fine mist that clings to surfaces.  This disinfectant is highly effective against many communicable diseases, including the coronavirus, and is immediately safe for customers and crew after it is applied.  When you also factor in the fact that all aircraft also use some form of HEPA air filtration system, the environment onboard has never been cleaner.
Fox: What else are airlines doing to keep customers safe?
Heck: The entire travel process has been impacted by higher cleanliness standards.  It starts with using your airline app for a touchless experience.   From the time you enter the airport to boarding the plane, you will see social distancing markers, sneeze guard screens, employees in masks and additional hand sanitizing stationsIf successful, watch for an expansion to other markets and other airlines to follow suit.
Fox: What changes do you see on the commercial side that would impact our customers?
Heck: The major airlines in the short term will be significantly smaller.  Fewer flights to key business markets, and the possible elimination of service to smaller markets.  This means a smaller workforce as well.  An airline sales rep will have larger territories and response times may be impacted.  Your Fox client solutions manager can and will serve as your advocate in helping with airline agreements and service recovery needs.
Fox: What other key commercial changes have occurred?
Heck: The airlines are focusing on increasing flexibility for changes to customers' travel.  United Airlines, Delta and American Airlines have all changed their position on change fees and will not be charging them in U.S. markets.  This provides significant value for our mutual customers.
Fox: That's great information, Mike, and thank you for sharing. If you have one piece of "do it today" advice for travel managers, what would that be?
Heck: Now is a great time to review your airline strategy as it applies to agreements.  As a reminder, there are three categories of agreements: 1) points programs 2) midmarket shelf products like preset discounts and goals and 3) traditional negotiated programs like discounts and goals that are unique to each customer.  Work with Fox to determine which airline you should partner with based on your travel patterns, and then which program makes the most sense.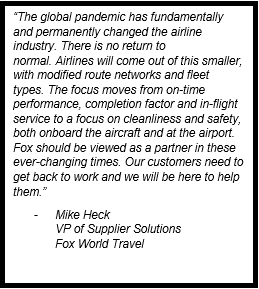 ________________________________________________________________________________________________________
Because we understand many travel managers do more than just travel-related duties, Fox holds your education, awareness and influence with your entire organization a top priority.
If you like Mike's ideas and are looking for more discussion around how to create influence within your organization, join us October 15 at 2 p.m. for Travel Talks, an industry information roundtable where we will focus on travel managers' executive value through travel program success.  Coming Soon!
With the rapid changes out there, don't go it alone. Let us be your advocate. If you have any questions, get in touch with the Fox team today.