Plan Your Caribbean Destination Wedding
We're sure you've dreamed of your wedding day for a long time. We understand the importance of this day and are excited to be able to offer an array of romantic Caribbean destination wedding travel and planning services.
Stressed out planning? Not sure where to start? Our Destination Wedding Consultants specializing in Caribbean weddings are devoted to making the planning process for your special day fun and stress-free. We have access to some of the best flights to the Caribbean, have built relationships with popular all-inclusive resorts throughout the Caribbean and specialize in group vacations.
The best way to start your journey is to fill out our online form. Once you submit the form, one of our travel agents who specialize in Destination Weddings will get back to you soon. Or, if you'd like to get started right away, simply call us at 800-690-4494. We're happy to help.
A destination wedding in the Caribbean allows couples to:
Save time planning
Offer memorable, priceless experiences
Save money - Combine your wedding and honeymoon!
Have a reception you desire
Enjoy more quality time with your spouse, family and friends
Take photos with beautiful landscapes
Contact a Destination Wedding Travel Specialist
Our Featured Caribbean Destination Wedding Planning Services
Accommodations
Let us listen to your vision and needs to recommend resorts, cruises and packages that will best offer a memorable experience and vacation for both you and your guests. With endless options to choose from worldwide, this is more important than ever.
Airfare and contracts
Scheduling flights for a group can be complicated. Our team of groups air specialists will do the work for you by contacting airlines and tour operators to block group air space when needed, assist travelers from multiple departure cities and negotiate contracts.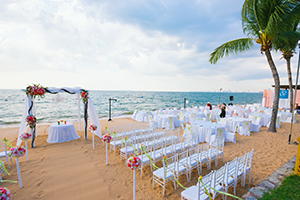 Wedding and special events
We can help as little or as much as you'd like planning the details of your wedding day. We connect you with professional onsite wedding coordinators and help facilitate important details for this very special occasion. We can also assist with special group events and excursions.
Perks and exclusives
If there are group booking incentives available or free perks at the resort, we will work hard to ensure you know about them and can take full advantage to save and be pampered on your vacation. We can also assist with special requests, such as room upgrades and more.