Employee Profile: Jesse Funk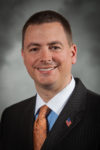 Jesse Funk is a Client Solutions Manager with Fox World Travel. For the past two and half years he's been helping companies find answers to their business problems—large and small.
For day-to-day issues like what can be done with unused airline tickets, usually the answer is easy. However, the solution for how to save a company five percent annually on all travel takes a more complex approach.
Ultimately, Funk's goal is to not only help clients find a solution, but find the best one. He understands the right plans can create savings in total travel spend, while ultimately allowing the organization to continue or increase travel that assists in generating revenue. He said, coming up with the fix for the "unsolvable" problem is the most rewarding part of his job.
Fox World Travel Client Solutions Managers like Funk work with companies of varying sizes throughout the country.   Currently, he serves about 20 different clients in Wisconsin and Minnesota.
Funk has a background in hospitality and transportation. In his free time, he enjoys watching baseball and has been to 31 Major League Baseball stadiums.