Treasures of Italy with Danny Clayton and Rose Gray
July 6, 2021 to July 18, 2021

Join Danny Clayton and Rose Gray on an incredible tour of Italy.  You'll be immersed in Italy's historic cities, idyllic fishing villages, islands, lakes, and canals, heritage buildings, inspiring art, fabulous food and breathtaking scenery. From the historical and ancient city of Rome to the enchanting villages of Cinque Terre and the diverse scenery of Northern Italy, this will be a vacation you will never forget!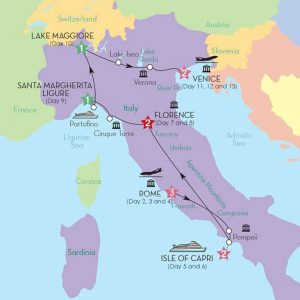 ---
Inclusions
Air-Inclusive Package
Round-trip air from Chicago O'Hare to Rome, Italy and return from Venice, Italy including current air taxes and fees when purchasing our air and land package
Round-trip airport/hotel transfers in Rome and Venice when purchasing our group flights
Hotel accommodations for eleven (11) nights in 4-star hotels (Begin with three nights Rome, two nights Isle of Capri, two nights Florence, one night Santa Margherita Ligure, one night Lake Maggiore, two nights Venice) including hotel service charges, taxes and luggage handling for one bag
Hotel Accommodations
Hotel accommodations for eleven nights in 4-star hotels

Three nights Rome at the Romanico Palace (or similar)*
Two nights Isle of Capri at the La Palma Capri (or similar)*
Two nights Florence at the Adler Cavalieri (or similar)*
One night Santa Margherita Ligure at the BW Regina Elena Hotel (or similar)*
One night Lake Maggiore at the Hotel Simplon/Dino (or similar)*
Two nights Venice at the Hotel Molino Stuckey (or similar)*
*Includes hotel baggage handling for one bag per person including hotel porter gratuities.
Sightseeing and Services
Sightseeing Inclusions:

Rome: See the mighty Colosseum and Roman Forum. You will also see other medieval buildings, including Renaissance palaces and Baroque churches, scattered throughout the city.
Pompeii: Walk with a Local Expert through the cobbled streets of this ill-fated town.
Isle of Capri: Cruise between the island and mainland by hydrofoil and get a flavor of the jet-set lifestyle with two nights on this famous isle. Explore Capri with your Local Expert and see the whitewashed houses, winding alleyways, small cafes, fashionable boutiques and artisans' studios.
Isle of Capri: Discover the luxuriant Caesar Augustus Gardens with a Local Expert and admire views of the Faraglioni rocks.
Florence: During your guided walk see the cathedral, bell tower and Gates of Paradise on the baptistery. Visit the political heart of the city, Piazza della Signoria. View the area around Santa Croce Basilica, famous for the quality of its luxury goods and witness a leather-work demonstration.
Cinque Terre: These hidden UNESCO World Heritage protected fishing villages, are ingeniously fashioned into impossibly steep hillsides. Join a Local Expert to travel to them on the 19th century railway line through some of the most dramatic coastal scenery on earth.
Portofino: Delight in a taste of la dolce vita as you explore this elegant fishing village and cruise to Santa Margherita.
Venice: With your Travel Director cruise to St. Mark's Square and see the Doge's Palace, Bridge of Sighs and St. Mark's Basilica. To the tune of accompanying musicians, you will be serenaded through the atmospheric canals by gondola, past water-lapped doorways and Rococo palaces where once the likes of Casanova would have come calling.
Scenic Drives: Admire the classic Italian countryside views of Umbria, the rolling hills of Tuscany and the beauty of the Italian Lake District.

Luxury air-conditioned 40-seat coach with extended leg room and on-board restroom for transportation and sightseeing
Headset for guided sightseeing visits and walking tours
Professional Tour Manager from Fox World Travel*
Professional Insight Vacations Tour Director
Customized informative travel documents
Included Meals
Daily Breakfasts
6 Dinner experiences including wine (see daily itinerary for details)
Not included:  Travel Insurance, gratuities for airport porters, tour guides, motorcoach drivers, meals (other than those included in the package), optional excursions that may be offered, trip cancellation insurance, and any items of a personal nature.
* Minimum group required for the Fox World Travel tour manager to participate. In the unlikely event the minimum number is not reached, the tour will still include a professional local guide in the destination. NOTE: hotels and daily itinerary are subject to change.
Pricing
Single Supplement: $1,275.00
Initial Deposit: $400.00 per person
Final Payment Due: June 12, 2021
*Above base pricing is per person based on double occupancy. All air taxes and fees are TBD but included and subject to change.
Hosts
Danny Clayton

WTMJ and Annex Wealth Management
A Milwaukee native, Danny has worked in radio –in some form—since the day after his sophomore year of high school ended when he was growing up in Escanaba, Michigan, and was hired by a station "who had no problem hiring bad 15-year-old DJ's".
Since then, he worked in Stevens Point and Madison before moving to Milwaukee and spending a total of 17 years at the original WKTI radio where he was program director and on-air personality.  From there, he worked at 105.3 The Fish, in Milwaukee, as well at 94.5 The Lake.   Along the way, he joined WTMJ for Saturday mornings where he hosts the Fix-It Show, Money Talk with Annex Wealth Management and The Fox World Travel Show with Rose Gray.
He and his wife, Suzanne, live in Fox Point where they spoil three Golden Retrievers. He enjoys fitness, hiking, and bicycling.
His father, Ole, was 100% Norwegian and his family can trace their family tree back nearly 300 years to the Osteroy area near Bergen.  He is beyond excited to be part of this very special trip.
He's an active member of Eastbrook Church in Milwaukee.
---
Rose Gray
Fox World Travel Show Host on WTMJ
Rose Gray is the Manager of Business Development for Vacation Sales at Fox World Travel. She is also the host of the Fox World Travel Show heard on WTMJ on Saturday mornings from 9-10 a.m. Rose has a bachelor's degree from Lakeland College and has completed the C T C program, a two-year management course offered by the Institute of Certified Travel Consultants. During her 30 years in the travel industry she has traveled as far north as Reykjavik, Iceland, as far south as Porto Montt, Chile, as far west as Vanuatu, and as far east as Singapore. And although she loves traveling the globe, her favorite vacation is Arizona in March for Brewers' Spring Training. Rose is a blast to travel with and our clients LOVE traveling with her escorted tours and river cruises to new destinations, most recently Alaska, Hawaii, Europe, Egypt, Vietnam and Cambodia . Will you be next to join Rose?
Special Offers
Early Booking Discount: Deposit by September 4, 2020 and receive a $300.00 per person discount
Past Passenger Discount: $170.00 per person (subject to change at any time)
*Must have traveled with Insight Vacations, Uniworld, Brendan Vacations, Trafalgar or Contiki within the last five years to qualify.
Discounts are subject to change at any time
Flights
Flights from Chicago are pending
Flights from Chicago are pending: The air-inclusive package includes air that has not yet been assigned, the identity of the carrier, which may include the carrier's code-share partner, will be assigned and disclosed at a later date.
Flight schedules are subject to change. Fox World Travel has no control over flight or equipment changes, seat assignments, delays or cancellations.  Airline tickets will be non-refundable once issued. Changes will be subject to a fee plus any fare difference.  Additional restrictions may apply. A minimum of 10 passengers is needed for the group air.  Checked baggage fees may apply.  A minimum of 10 passengers is needed for the group air. Checked baggage fees may apply.
Pricing and flight options from other cities available upon request.
Notes
Optional Motorcoach Transfer:
Group motorcoach transfer to and from Chicago O'Hare from select pick-up points are $45 per person each way ($90 per person roundtrip).
Optional Insurance:
Cancellation and travel protection is strongly recommended. Fox World Travel offers several plans with Travel Guard Insurance. Details and rates can be obtained from your travel consultant.
Cancellation Penalties:
From date of deposit to April 1, 2021: Initial deposit of $400.00 per person
April 2, 2021 – April 30, 2021: 50% package price cancellation fee + applicable airline fees
May 1, 2021  – May 28, 2021: 75% package price cancellation fee + applicable airline fees
May 29, 2021 to 0 days prior to travel: No refunds
Airline tickets are non-refundable once ticketed.
RESPONSIBILITY: We and any sponsoring organizations act only as agent for the suppliers of travel services such as airlines, hotels, car rental companies, tour operators, restaurants, sightseeing companies, entertainment providers, and cruise lines (the "Suppliers"). We are not responsible for the acts or omissions of the Suppliers that cause losses or damages arising from physical or emotional injury, property or other economic damage, consequential damages, or monetary losses, or arising from any other causes beyond our control. We reserve the right to make any changes in the itinerary deemed necessary, and also the right to decline or retain any person as a member of the Trip. If you choose to arrange your own transportation for any portion of the Trip, we are not responsible for any arrangements or associated costs should there be a change in date that requires changes or cancellation to transportation arranged by you. We are not responsible should there be any changes with vacation hosts, tour managers, or entertainment. You grant to FWT and its designated agents the right to acquire and use the audio, photographic, video and other portrayals of your image, likeness, and voice in any medium of any nature whatsoever, including the Internet, for the purpose of trade, advertising, sales, publicity or otherwise, without compensation.
We will make reasonable attempts to accommodate the special needs of disabled travelers, but we are not responsible in the event we are unable to do so nor are we responsible for any denial of services by Suppliers. The American with Disabilities Act is only applicable within the United States and facilities for disabled individuals are limited outside its borders. Most transportation services, including a touring motor coach, are not equipped with wheelchair ramps. We regret we cannot provide individual assistance to a vacation participant for walking, dining, getting on and off motor coaches and other vehicles, or other personal needs. A qualified and physically able companion must accompany travelers who need such assistance and must assume full responsibility for their well-being. Motorized scooters are unsuitable for most vacations.
We have no special knowledge regarding the financial condition of the Suppliers, unsafe conditions, health hazards, weather hazards, or climate extremes at locations to which you may travel. For information concerning possible dangers at destinations, we recommend contacting the Travel Warnings Section of the U.S. State Department at (202) 647-5225 or www.travel.state.gov. For medical information, we recommend contacting the Centers for Disease Control at (877) FYI-TRIP or www.cdc.gov/travel. You assume full and complete responsibility for checking and verifying any and all passport, visa, vaccination, or other entry requirements of your destination(s), and all conditions regarding health, safety, security, political stability, and labor or civil unrest at such destination(s). You hereby release us from all claims arising out of any problem covered in this paragraph. You agree that the courts in Winnebago County, Wisconsin will be the exclusive jurisdiction for all claims brought by you or us, and you hereby submit to the personal jurisdiction of those courts.
We work vigilantly with the Suppliers to maintain integrity of the price you were originally quoted and placed on deposit. There may be certain circumstances where your vacation may be subject to a price increase prior to full payment due to a supplier or government issued surcharge. Prices will not increase after you make full payment, except for charges resulting from increases in government-imposed taxes or fees, fuel surcharges, exchange fluctuations or any combinations of these. Fox World Travel will make a reasonable attempt to contact you prior to issuing charges.