Interest:
Adventure
Travel agents specializing in adventure vacations can help you choose itineraries and activities that allow you to travel off the beaten path.  Backpacking, snorkeling, scuba diving, safaris, sailing and so much more can be considered adventure travel.  Contact us to learn about the companies we partner with to provide adventure vacations.
1. A DAY TRIP TO PLAYA DEL AMOR (LOVER'S BEACH)
The jaw-droppingly beautiful Playa del Amor, once written about by John Steinbeck, is hidden behind Land's End on the Sea of Cortez. Only accessible by water, the beach is a great day trip for any adventurer. Hire a water taxi or kayak to the hidden cove for a day of relaxing on the beach. If you opt for the water taxi route, be sure to have your captain take you on a tour of the best diving areas around the arch (El Arco) and get a glimpse of the dramatic view where the Sea of Cortez meets the Pacific Ocean before being dropped at Lover's Beach. It's best to spend time in the water on the bayside, where the water is calmer and clearer.
2. CANYON CANOPY TOUR – ZIP LINING THROUGH BOCA DE SIERRA NATIONAL PARK
Head north of Cabo San Lucas to Boca de Sierra Biosphere Reserve, just outside the small town of Mira Flores. The UNESCO-protected national park is home to some of the most stunning and drastic natural surroundings. Instead of hiking through the park, take in the views and local flora and fauna from above. Fly across wide canyons via double zip lines before arriving at Cabo's longest and fastest zip line, known as the superman.
3. AMIGOS DEL MAR DIVE SHOP – MOBULA RAY EXPERIENCE
With more than 40 years of diving experience, the Amigos del Mar dive shop is the perfect outfitter for all diving adventures. The shop facilitates both diving classes and certification as well as a variety of diving excursions for all levels. The Mobula Experience is a unique trip that offers divers the experience of swimming alongside gigantic schools of Mobula Rays. Cabo is the premiere destination for spotting some of the largest schools of Mobula Rays in the world— sometimes exceeding 10,000 rays. The Amigos del Mar dive shop offers three dives a day (early morning, mid-day and sunset) during the Mobula migration seasons. Each dive offers a different look at the Mobula Ray from acrobatic jumping to mating behaviors and tranquil viewings.
4. MOUNTAIN BIKING IN THE MEXICAN OUTBACK
Head to the desert landscape of Rancho Tierra Sagrada on the Pacific coast of Baja for an invigorating mountain bike ride. Breathe in the salty ocean breeze as you pedal along a sandy trail. The route offers incredible vistas, pristine beaches, and views of the sparkling water. At the trail's end you're rewarded with a beautiful beach where you can relax and cool off in the clear blue water.
5. BIG-GAME FISHING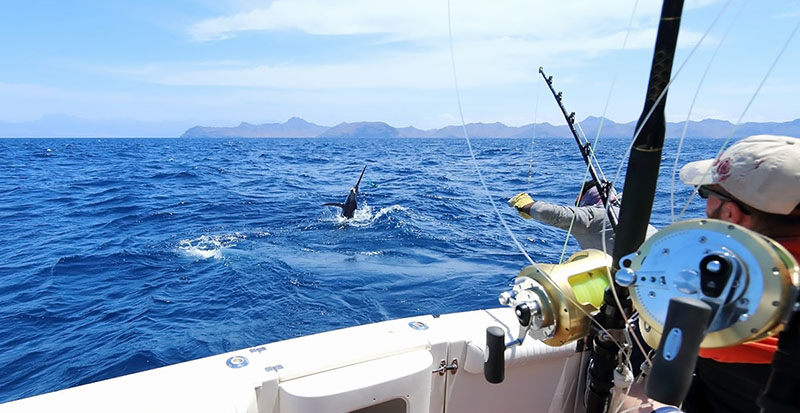 Cabo San Lucas is home to large populations of marlin, sailfish and tuna, making it a great place to experience big-game fishing. Even the most amateur of anglers will want to try their hand at catching one of the many large fish in the Los Cabos waters. Pisces Sportfishing is top big-game outfitter with one of the top fishing fleets in the area. With a large variety of boats, the size of trips can vary. With a reputation for respectful catch totals and conservation efforts, it offers anglers of all skill levels an exciting deep-sea fishing adventure. Plus, Pisces will deliver your catch to a local restaurant at the marina, where they will prepare it as you wish.
Are you an outdoor enthusiast looking for adventure? Contact us about our Los Cabos vacations and check out our SuperSale on all-inclusive getaways!