Interest:
European travel
Hello, fellow adventurers!
I'm Lindsey Schultz, one of your trusted travel advisors based in our Oshkosh office. While embarking on a European adventure is exhilarating, it's the pre-trip puzzle of packing that often leaves many travelers feeling overwhelmed. If you've ever found yourself pondering the age-old question, 'What should I pack?'—worry not! Join me as I unveil the essential five items that deserve a spot in your suitcase for your next trip to Europe!
1) Outlet Adapters
Don't forget that Europe has different outlets than ours! Also, keep in mind that different European countries require different adapters, make sure you have each type you need if you're traveling to more than one country on your trip.
2) Money for bathrooms 
The public bathrooms in Europe aren't free! Make sure you carry around some Euros, British Pounds, or other European currency while out and about. Some restrooms accept credit cards but not all of them!
3) Comfortable Walking shoes 
Europe is known for being home to many cities with cobblestone streets & lots of stairs. To make sure you're prepared to walk around all day, leave the heels at home and pack comfortable shoes to walk in.
4) Versatile Clothing 
Europe has a reputation for being very fashionable. Each country and region has their own style but one thing they all have in common is their lack of athleisure attire. Although you can wear whatever you are most comfortable in, we suggest maybe saving the sweatpants and leggings for the gym when packing.
5) Anti-Pickpocket Backpack or Bag 
Unfortunately, Europe also has a reputation for pickpocketing. To keep belongings safe, we strongly recommend purchasing an anti-pickpocketing backpack or bag. Never leave your belongings unattended and wear your bag or backpack at all times.
Inspired to travel to Europe now? Join us in 2024 on one of our Fox Group Vacations Europe trips! You won't want to miss out!
Hello! I'm Emily Kilmer, Travel Advisor in the De Pere office!  River cruising is a different type of travel that has been growing in popularity over the past few years and for good reason! It offers a unique and exciting way to explore multiple countries while enjoying the comfort of a small ship. With daily excursions, meals focused on the local cuisine, and onboard entertainment, river cruising is an excellent way to experience the world. Let's take a closer look at the perks of a river cruise as well as popular cruise lines we sell at Fox: Avalon Waterways and Uniworld Boutique River Cruises.
Embarking on a river cruise is an excellent way to see multiple countries and cities in a short period of time. These small ships allow you to get to know the staff and other passengers, creating a more intimate and personalized experience. Daily excursions are included in your itinerary and almost always include a city tour from local expert guides. If you're feeling adventurous, you can always explore the area on your own! Daily check-ins with the cruise director ensure that you always understand the itinerary, and the available excursions offered to travelers.
Another significant advantage of river cruising is that meals on board the ship are always included. They are expertly crafted by chefs to give you a taste of the local cuisine. Want to dine like a local instead? Feel free to skip the meal on the ship and head into town to find authentic bites! Sky decks are another unique feature of river cruise ships. Hang out on the sky deck while you're sailing down for a full view of the surrounding landscape. Almost every river cruise line also offers trip extensions if you want to fly in early or stay later, allowing you to spend more time in your destination city. 
Avalon Waterways is the river cruise line for travelers looking to splurge a little more on their river cruise experience. Sail to Europe, Africa, Asia, and South America aboard newer, more contemporary ships with larger staterooms. Avalon also strategically places each bed to face the river, so you always wake up to a stunning view! Equipped with a gym and bikes onboard, make Avalon a great choice for travelers looking to stay active. Wine, soda, and beer are complimentary with lunch and dinner, while sparkling wine can be enjoyed at breakfast. Avalon is family-friendly and offers a variety of itineraries allowing you to pick the perfect river cruise for your vacation!
Uniworld is a river cruise line for those wanting a true luxurious river cruising experience. Sailing in Europe, Asia, Africa, and South America, each ship is unique to the destination it sails to, creating a more immersive experience. They offer an all-inclusive luxury boutique hotel on water and includes all meals, beverages, and gratuities. Uniworld's ships are smaller than their competitors meaning there are less cabins onboard and therefore, smaller group sizes for excursions. This allows guests access to more unique experiences they could not partake in with a larger group. A swimming pool and gym are onboard, as well as bikes, making Uniworld another great option for active travelers. Like Avalon, Uniworld is also family-friendly and offers activities for children making them a great choice for a multi-generational trip!
Hello Italy lovers! My name is Alana Magestro, Vacation Travel Advisor for Fox. My favorite European country is Italy, hands-down!!
Exploring Italy for the first time can seem overwhelming, but it doesn't have to be!
There are so many amazing cities scattered across the country! So how do you choose which ones to visit?
To help you plan an unforgettable Italian journey, here's my guide to some of the most beautiful cities in Italy.
Whether you're looking for captivating architecture or breathtaking views, these cities have something for everyone. From local markets where you can sample some of Italy's delicious cuisine, to unique cultural experiences and must-see historical landmarks, each city has its own charm and characteristics that make it worth exploring. With so many options, you're sure to find something that will leave a lasting impression.
Get ready to traverse the cobblestone streets of Italy's most beautiful cities! Whether you're on a budget or looking for an indulgent getaway, here are some of my favorite cities to visit.
Let the adventure begin!
Rome
Immerse yourself in the grandeur of one of the world's oldest cities. Stroll through ancient ruins and take in some incredible masterpieces by Michelangelo and Bernini at the Vatican Museums.
Siena
With its red brick palaces, cobblestone streets and stunning medieval towers, this Tuscan city is absolutely stunning. Head to the Piazza del Campo, the heart of Siena, and enjoy gelato while you take in the stunning architecture.
Consider joining a group tour with Rose on our upcoming Fox Group Vacation this fall; Explore Tuscany with Rose Gray. We have limited space available.
Florence
From the historic elegance of Ponte Vecchio Bridge, to the stunning Duomo di Firenze cathedral, this city is a must-visit for art and history lovers.
Make sure you don't miss out on a visit to the Galleria dell'Accademia Museum where Michelangelo's iconic statue David stands proudly in all its glory!
Milan
Experience fashion, culture, and luxury in one of Italy's trendiest cities!
Shop at upscale designer boutiques, visit some of the city's renowned art galleries and museums or take a stroll along Via Montoleone – a place where you'll never be bored.
Sorrento
Sorrento is one of Italy's most famous resort towns placed on a perch high above the Mediterranean. This picturesque city is the gateway to the Amalifi Coast, and has been called La Gentile (the nice one) for its mild climate, elegant streets and gardens, and friendly residents.
Some popular nearby sights include Pompeii and Herculaneum, Capri and Blue Grotto. You can also enjoy the blend of cliffside towns like Positano and Amalfi. The local limoncello is incredible and worth seeking out while you are there. (I've tried replicating the recipe at home, but the Italian original is supreme.)
Cinque Terre
This colorful cluster of five towns along the Italian Riviera is truly breathtaking!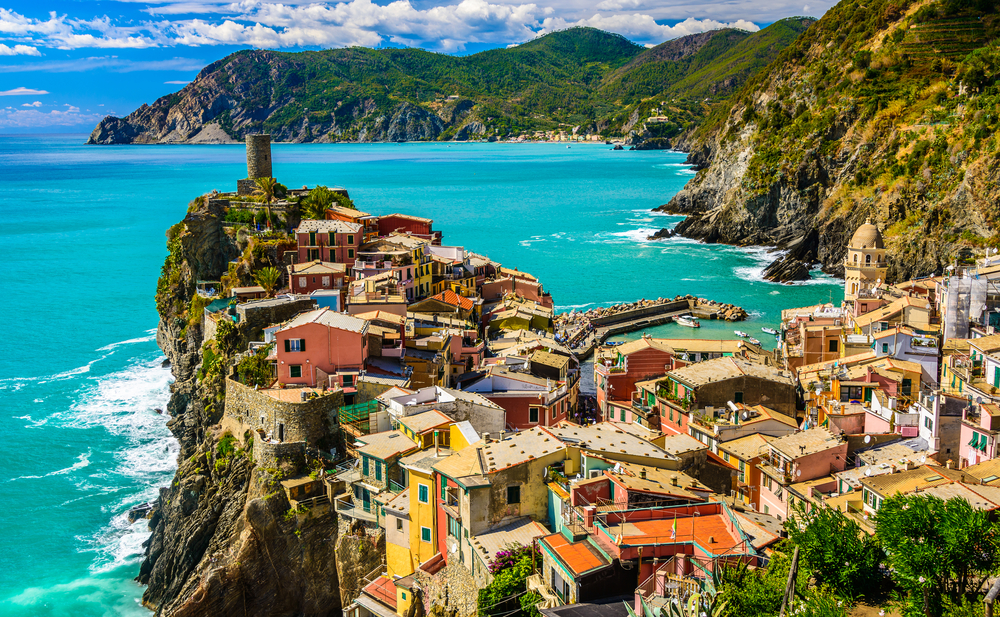 Take in spectacular panoramic views as you hike between each village, take a boat ride to explore the rugged coastline, or simply relax on the beaches and enjoy some of Italy's best seafood.
Bologna
Spend an afternoon exploring this vibrant city and you'll be rewarded with endless medieval towers, delicious food, and delightful views over the red rooftop terraces.
Don't miss out on a visit to the Piazza Maggiore where you can relax in one of the many lovely cafes and enjoy some of Italy's best gelato.
Verona
Get swept away by this romantic city's charm and history as you explore Juliet's balcony. Admire the city's incredible Roman amphitheater from around 30 BC.
And if you're feeling lucky, make sure to light a candle at the Church of San Zeno for good luck!
Venice
Take a romantic gondola ride through this enchanting lagoon city, explore centuries old churches, or savor an espresso in one of Venice's many charming squares – there's something special about this unique city that will capture your heart.
If you are interested in Italy, but do not want to limit yourself to just one country, check out our European Treasures tour which includes romantic Venice!
The Elegance Of Italy is an incredible group tour with Fox Group Vacations featuring Gigi Bromage, a favorite guide of past clients. Visit nearly all of these spectacular cities in one 14-day tour experience!
My Top Tip! Explore the Italian Cuisine.
Italy is renowned for its mouth-watering cuisine. From pizza to authentic pasta dishes like spaghetti carbonara, to delectable gelato for dessert, there are delectable bites around every corner! Take time to have coffee or a glass of wine and people watch. (Hint: The water is safe to drink in Italy.)
Finally, if you have the opportunity, don't skip visiting a fresh local market.
If you are interesting in planning your next Extraordinary Journey throughout Italy and beyond, feel free to schedule a virtual consultation. I look forward to helping you craft an incredible vacation traveling experience!
 Buon viaggio!
Alana