Interest:
historical vacation destinations
If a European vacation is part of your upcoming travel plans, you are not alone. It's a popular time to explore On Holiday trip ideas to historic and exciting Europe destinations. With 44 countries and hundreds of cities to discover, it's difficult to even know where to begin.
Here's our top 10 cities to visit in Europe.
1. Paris, France
Quite simply, Paris is anything but simple. Paris has it all and is an absolute 'must-see' in Europe. For travelers with a love of history, art, culture, beauty, and cuisine, you are sure to find something to fall in love with while visiting the Ville des Lumières (city of lights), as you walk through each arrondissement.
2. Florence, Italy

Calling all foodies! While art and history are obvious characteristics for Italy, there's something special about tasting the decadent cuisine of Italy in Florence. Take cooking classes and tour the countryside with your tastebuds. Don't forget to take time to explore the treasures of Tuscany too. If you are looking to explore the Best of Italy, join us to experience a touch of 'la dolce vita' for the perfect Italian tour.
3. Santorini, Greece
There are picturesque views and then there is Santorini! Visit Oia Castle and experience the most iconic views of its whitewashed architecture against the sapphire waters. The steep cliffs along the Aegean Sea provide the most colorful sunsets in the world. While you are there, walk the black volcanic beaches and stay in some of the most luxurious hotels along the Mediterranean.
4. London, England
Shopping until you drop is never a problem in London because it is packed with amazing local markets, shops, neighborhoods, and cafes. While everyone knows this city is filled with world-class sights and historical landmarks, it's a great idea to seek out the less-touristy areas of greater London for a truly authentic UK experience.
5. Amsterdam, Netherlands
If you are seeking a pedestrian-friendly city loaded with fun cafes, historical museums, and lush parks, there is no better destination for you than Amsterdam. Tour the canals in a boat, stroll through Vondelpark, or take a bike ride to experience the pleasant ambiance of this unique and vibrant city. Equally, you can experience the wonder of Amsterdam and the Romantic Rhine on our upcoming European River Cruise.
6. Barcelona, Spain
The architecture of Antoni Gaudi! The mouth-watering tapas! The Mediterranean atmosphere! Barcelona is packed with a lively night life, art, and jaw-dropping sightseeing. And it's a quick jaunt to the beach. Barcelona, Spain is sure to captivate your heart!
7. Rome, Italy
It is well known that Rome is filled with some of Europe's most iconic attractions. From the Colosseum, Roman Forum, Pantheon, Spanish Steps, Sistine Chapel, and the Vatican – it has so much history and beauty to admire. Add the food, cafes and shops – and it's a vacation destination of a lifetime. Keep in mind, there is so much to see that anything less than 5 days in Rome will leave you feeling rushed. Take your time to explore Rome in all its glory.
8. Reykjavik, Iceland
Iceland is increasingly ranked as one of the world's best cities for travelers and is one of the most popular travel destinations in the world. Experience all the adventures of Iceland along with the open-hearted and kind Icelandic culture — consistently ranked as the happiest people in the world. Go whale watching, witness the mesmerizing northern lights, visit art galleries and museums – all with the impressive glaciers and beautiful fjords as your scenic landscape!
9. Prague, Czech Republic
Prague is a city as close to idyllic Europe as you could possibly experience. Plus, it is relatively inexpensive to explore this gothic-centric architectural wonder. The astronomical clock (installed in 1410) is the oldest clock on the planet and serves as an icon for the history reserved only for Prague visitors. Did you know you can experience the Legendary Danube River Cruise with your own personal Fox guide this fall? Oh, and did I mention, its beer drinking capital of the world. Cheers!
10. Edinburgh, Scotland and BONUS Galway, Ireland
Scotland is a spectacular mix of lush landscape, castles, and history. Today, Edinburgh is full of modern Scottish life; however, the history of the land is one of legends and heroes. You'll likely travel to Edinburgh by means of Dublin which has become a thriving international city. If you are seeking the authenticity of Ireland, check out the city of Galway! The town has a beautiful, Irish vibe. Tour the wild Connemara region – a scenic wonderland of rivers, lakes and silent hills with us on our coming Scotland and Ireland trip!
If these cities have your heart racing for European exploration, we are ready to help you begin planning your trip! Reach out to one of our experienced travel advisors today. We are here to help and happy planning!
There are so many ways to explore Europe. Whether you are seeking a guided group tour, a river cruise, an ocean cruise or opting for self-guided traveling – we have options to satisfy your wanderlust travels throughout Europe.
RIVER CRUISES
If you seek European exploration while only needing to unpack your bag once, then a river cruise may be a wonderful option for you! For explorers hoping to discover hidden gems tucked away in the heart of a continent, there's truly no other way to see Europe.
There is "all-inclusive" and then there is Uniworld Boutique River Cruises which offer amenities finely tailored to your tastes. Uniworld's amenities are luxurious and unmatched, providing you with effortless travel. Sit back, relax, and enjoy Europe.
Equally appealing is Avalon Waterways, where the ships are designed from the bottom up for comfort, space, and room to dream. These ships provide panorama suites and open-air balcony options. Whether embarking on a legendary Danube River Cruise from Prague to vibrant Budapest or experiencing Europe's legendary cruise down the Romantic Rhine River, you'll see Europe from an unmatched perspective.
OCEAN CRUISES
Another amazing option is to explore Europe on an ocean cruise liner and enjoy a seamless vacation with your family and friends. Why not experience a European voyage with endless thrills, immersive culinary experiences and, best of all – traveling convenience.
Princess Cruises allow you to experience all the different seasons of Europe and see famous landmarks while offering entertainment and endless thrills for every generation. From kayaking voyages in Flåm in Norway to relaxing beach days in Mykonos, Greece, you will find shore excursions that match every guest's preference.
Another fantastic option is to cruise with Holland America and have it all! This cruise line sails close to 20 countries on itineraries ranging from seven to 35 days within the Mediterranean, Northern Europe, Baltic, and Transatlantic voyages. Plus, you will get additional time to explore with more overnights in the beginning and end of itineraries for extra days in such cities as Barcelona, Rome, and Athens.
GUIDED LAND TOURS
If you are looking to travel through Europe in style, Insight Vacations provides unique experiences and authentic dining in a "small group" environment. This option allows you and fellow guests to enjoy unique experiences in exciting destinations all over the world, including Magnificent Switzerland, The Best of Italy and France, Belgium and the Battlefields.
You will get to know the people who bring these places to life, dine on deliciously authentic local cuisine, and stay at stylish hotels in prime locations. And the entire way, you'll enjoy the kind of smooth, stress-free travel that only comes from such expertly crafted tours.
Another option is to select a Globus European Tour, which allows you to take your traveling into your own hands with "Your Choice Excursions." This tour allows you to tailor your perfect trip. It is the 'new way' to tour because Choice Touring gives you the freedom and the flexibility to design a dream trip with off-the-beaten-path destinations to satisfy your pleasures and passions! Discover Croatia with premium tour experiences. Venture to London and Paris – two of the world's most exciting cities or discover the Icelandic folklore with an Iceland Adventure.
WHY TRAVEL WITH US?
Why work with Fox to book your next European vacation? Our group tour experts hand-select the BEST group tours, cruises, and overall experiences. Plus, depending upon the tour, Fox will provide an expert Travel Director and a Fox Group Tour Manager to take care of all your needs so you can sit back and relax.
Our expert advisors specialize in global destinations. Whether you are seeking adventure in Iceland, Finland, Greece, Spain – or anywhere in between – Fox has experts that specialize in both destinations and modes of travel.
Never settle again for a European vacation that only checks some of your boxes. Whether you're an active traveler or culture fanatic, we can help you book an amazing vacation!
When you work with us, your travels are tailored entirely to you. Discover the possibilities of a European vacation! Reach out to one of our expert travel advisors to discuss your options today!
If you have a person in your life with a passion for history, family origin and heritage, we have some awesome recommendations to give the gift of memories with an unforgettable trip. How do you select the perfect itinerary with so many destination options? You're in luck! Here are some of our favorite travel destinations for the historian and family heritage enthusiast.
#1 THE HISTORIAN
If you have a history buff in your life, their quest for ancient ruins and world-famous landmarks are top of the list. Here are our top three destinations packed with historical highlights.
BERLIN, GERMANY
A worldwide symbol of liberation, the remains of the Berlin Wall is held close in the hearts of the German population. But did you know there is also lots to tour in Berlin? There is a huge complex with remains of the original wall, buildings dating back to World War I and II, and statues paying homage to people living in East and West Germany. History is eventually about the triumph of good over evil, and the fall of the Berlin Wall is one such event worth revisiting. The museum upstairs offers an extensive timeline through interactive and visual exhibits.
BUDAPEST, HUNGARY
The picturesque city of Budapest still holds many of the forgotten Roman and Medieval sites. While many of the sites are now found in ruins, you can still take a step back through history! Stand at the geographical heart of mainland Europe and take in the rich history and culture that are majestically intertwined by the powerful Habsburg dynasty. You will dine in local elegance along the way and see sights like never before! And if you are looking to travel with a group, we have the Splendors of Budapest, Vienna and Prague trip scheduled in 2022. It's sure to be a wonderful journey.
MONT SAINT MICHEL / NORMANDY, FRANCE
Mont-Saint-Michel was a once-bustling pilgrimage site. Today, tourists can make their way on foot to the island (low tide permitting!) and explore the cobbled pathways while stopping off at the array of hotels and restaurants while taking in the far-reaching, coastal sights of Normandy. There is also a Historical Museum with over 1,000 years of history on display. We are offering a tour with Rose Gray in 2022 packed with incredible sights, battlefields and museums called France, Belgium and the Battlefields. It is truly a trip of a lifetime!
#2 THE HERITAGE / GENEOLOGY TRIP
Heritage tourism or traveling to the land of your ancestry to connect with your family roots is becoming more prevalent in travel. And these trips are not just for adults. You can plan a genealogy-inspired trip the whole family will love. Coming together to experience and share in your family history is one of the most important parts of this travel journey.
POLAND
The country's historical significance, mixed with its captivating natural beauty and unique cultural fabric, make Poland one of Eastern Europe's best-kept secrets. Explore medieval castles, bustling city squares and unmatched historical significance. Poland's bright and bustling cities of Warsaw, Krakow and Poznań enchant and amaze visitors. We are offering an exclusive tour with Colleen Alsberg in 2022 entitled Fascinating Poland which is an all-encompassing tour into Poland's unique and profound history.
IRELAND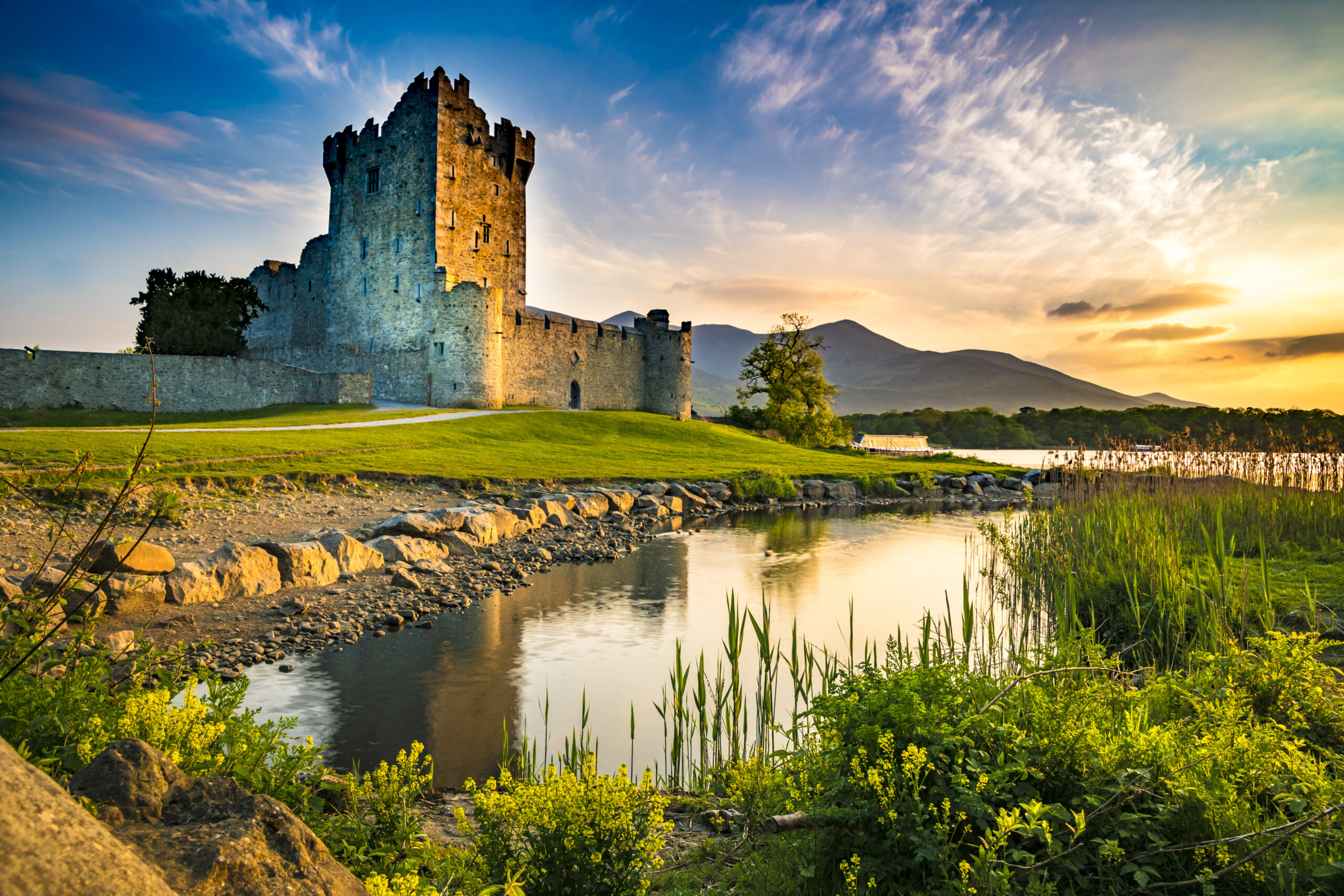 Travel to beautiful Ireland and explore its charming cities and breathtaking landscapes! Dublin is the heart of Irish culture and charm. Visit Trinity College, St. Patrick's Cathedral and the Jameson Distillery, where you will learn about and sample the "water of life." Experience the breathtaking landscapes and discover the beauty of the Dingle Peninsula. Onward to Cong and stay over one night at the incredible Ashford Castle. Enjoy the immense grounds and a plethora of optional activities. Tradition, culture and charm await you, and you can join us on our next Ireland Adventure with Rose Gray. This itinerary gives "family vacation" a whole new meaning. Immerse yourself in Irish history on this once-in-a-lifetime experience.
SOUTHERN ITALY & SICILY
See the unique trulli houses of Alberobello and the Sassi di Matera and witness the rich heritage of Sicily and enjoy warm Mediterranean hospitality, as you journey from picture-perfect fishing villages to ancient Greek temples. Sicily is home to some of the world's best-preserved examples of Greek and Roman temples, structures, and art. Witness the rich legacies of the ancient Greeks, Carthaginians, and Romans. You won't want to miss the many culinary pleasures sure to be had on our Beautiful Southern Italy and Sicily  tour. You'll taste Sicilian wine, feast on delicious seasonal cuisine and meet passionate locals along the way on this unforgettable journey!
Continue to follow our blog for more destination ideas for your special traveler! If group vacations sound like your perfect gift of travel, you can learn more on our Fox Group Vacations page. If you have additional questions about vacation travel, contact one of our vacation travel advisors today!
Do you have a favorite historical or heritage vacation travel destination? Drop us a note below and let us know.