𝑯𝒆𝒍𝒍𝒐 𝑰𝒔𝒍𝒂𝒏𝒅 𝑳𝒐𝒗𝒆𝒓𝒔! We are sharing wonderful news from vacation travel. We are launching a new Hawaii specialty team. This new team features eight certified Hawaiian experts who have traveled and studied the Hawaiian Islands to offer you the best recommendations for accommodations, tours, and activities to maximize your next Hawaiian vacation.
Traveling to Hawaii takes a bit longer than other tropical islands (like the Caribbean) so what makes Hawaii one of the most popular destinations?
Here's our top 5 reasons to visit Hawaii!
5. The Untouched beauty
Many parts of Hawaii include amazing, secluded paradise. It's a hiker's paradise with panoramic views of ocean and mountains. Plus, appreciate the sun rise and set over the water every day!
4. The Weather
Hawaii's winter season doesn't drop below 75°F (24°C) during the day—ever! Enjoy shorts, tanks or bathing suit as your typical attire all year long.
3. Wildlife
Hawaii is home to beautiful animals that thrive near the coastal regions, and you can catch a peek if you keep an eye out for them. From whales, dolphins, sea turtles, monk seals or mongoose – it is truly amazing to see these majestic creatures in their natural habitat.
2. Thriving culture
Hawaii's beauty truly shines through its people! Hawaii is home to a diverse melting pot of cultures – adding to Hawaii's charm. From authentic cuisine, talented locals, Hula demonstrations at luaus and the charming Hawaiian language, the long-standing cultural traditions shine everywhere you turn.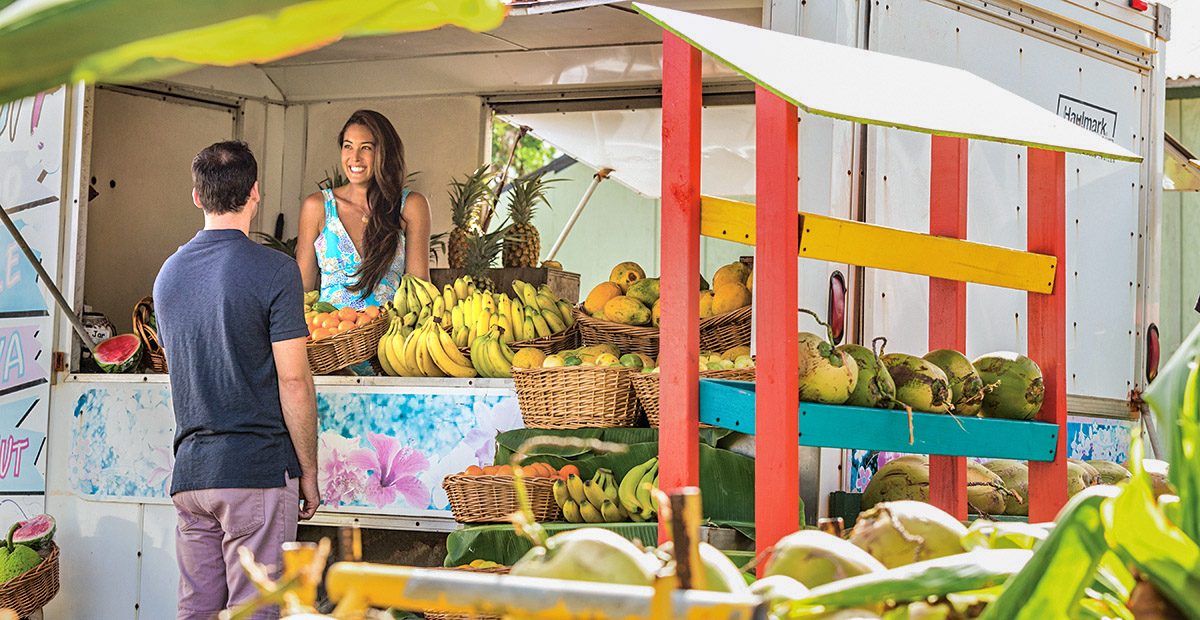 1. Aloha spirit
You will feel the aloha spirit surround you from the moment you step on the islands. The happy dispositions and smiling faces may come from year-round summer. Regardless, you'll find the friendliest people around.
About the Fox Hawaii Specialty Team
Experienced travel advisors well-versed in the Hawaiian Islands can elevate the travel planning process by offering peace of mind to travelers. The vacation planning process can be exciting, but also endless, overwhelming and time consuming.  Fox's Hawaii Specialty team will deliver on your Hawaii dreams through their expertise and experience, while also collaborating with travelers to truly understand their wish list.  Ultimately, we want you to travel better and travel well, by personalizing the travel experience, protecting your investment and reducing the stress of vacation planning.  Whether it is a single island experience or one visiting multiple islands – their planning process goes beyond simply bundling air and hotel options. This expert team is passionate about the destination – offering you tailored recommendations for tours, cruises, dining experiences, shopping, and so much more.
Visit our website to learn more about our new Hawaii Specialty Team. Aloha Fox Friends!
If your yearning for discovery has no boundaries, let our team of cruising experts help get you there! Let us introduce you to, Uniworld Boutique River Cruising. While people often hear of European river cruising, there are global destinations to explore beyond Europe! This cruising option allows you to venture to place that once seemed out of reach. And, of course, you are cruising in all-inclusive luxury the entire trip!
FOLLOW THE PATH OF PHARAOHS.
In a land of temples and tombs, cruise along the Nile as great figures of history once did. Special moments aboard S.S. Sphinx are just as rewarding as your journey on a felucca, a traditional Egyptian sailboat.
SAIL THE SACRED GANGES.
Spend days exploring India's glorious Golden Triangle before stepping onto Ganges Voyager II. From Kolkata, local villages line the river's edge, and each day leads you to bustling markets, monuments and temples.
EXPLORE THE INCA EMPIRE.
Aria Amazon is your guide through the Peruvian Amazon, connecting you to excursions to wild jungles and glimmering lakes. The culmination of your voyage is the magical Sacred Valley and the sprawling ruins of Machu Picchu.
JOURNEY THROUGH TIME.
From modern-edged metropolises like Ho Chi Minh City and Phnom Penh to the communities that lie in between, a voyage through Southeast Asia is one of dramatic contrasts. Sail the all-suite Mekong Jewel to enjoy cultural enrichment and regionally inspired cuisine along the way.
TRAVEL FARTHER THAN EVER BEFORE.
Forty-six incredible nights, nine countries, five sleek Super Ships. Cross the globe with Uniworld's inaugural Rivers of the World cruise and navigate great rivers in style — from the mythical Nile to the glorious Douro River Valley.
BONUS!
The elegant meals when dining onboard are unrivaled! You are treated to world-class cuisine made with locally sourced ingredients from the destinations you visit. Uniworld even allows you to experience some of their featured recipes from the comfort of your own home specially designed by the expert chefs at Uniworld.
If exploring the world in all-inclusive luxury sound like the perfect vacation option for your next adventure, reach out to one of our expert advisors today!