1. A DAY TRIP TO PLAYA DEL AMOR (LOVER'S BEACH)
The jaw-droppingly beautiful Playa del Amor, once written about by John Steinbeck, is hidden behind Land's End on the Sea of Cortez. Only accessible by water, the beach is a great day trip for any adventurer. Hire a water taxi or kayak to the hidden cove for a day of relaxing on the beach. If you opt for the water taxi route, be sure to have your captain take you on a tour of the best diving areas around the arch (El Arco) and get a glimpse of the dramatic view where the Sea of Cortez meets the Pacific Ocean before being dropped at Lover's Beach. It's best to spend time in the water on the bayside, where the water is calmer and clearer.
2. CANYON CANOPY TOUR – ZIP LINING THROUGH BOCA DE SIERRA NATIONAL PARK
Head north of Cabo San Lucas to Boca de Sierra Biosphere Reserve, just outside the small town of Mira Flores. The UNESCO-protected national park is home to some of the most stunning and drastic natural surroundings. Instead of hiking through the park, take in the views and local flora and fauna from above. Fly across wide canyons via double zip lines before arriving at Cabo's longest and fastest zip line, known as the superman.
3. AMIGOS DEL MAR DIVE SHOP – MOBULA RAY EXPERIENCE
With more than 40 years of diving experience, the Amigos del Mar dive shop is the perfect outfitter for all diving adventures. The shop facilitates both diving classes and certification as well as a variety of diving excursions for all levels. The Mobula Experience is a unique trip that offers divers the experience of swimming alongside gigantic schools of Mobula Rays. Cabo is the premiere destination for spotting some of the largest schools of Mobula Rays in the world— sometimes exceeding 10,000 rays. The Amigos del Mar dive shop offers three dives a day (early morning, mid-day and sunset) during the Mobula migration seasons. Each dive offers a different look at the Mobula Ray from acrobatic jumping to mating behaviors and tranquil viewings.
4. MOUNTAIN BIKING IN THE MEXICAN OUTBACK
Head to the desert landscape of Rancho Tierra Sagrada on the Pacific coast of Baja for an invigorating mountain bike ride. Breathe in the salty ocean breeze as you pedal along a sandy trail. The route offers incredible vistas, pristine beaches, and views of the sparkling water. At the trail's end you're rewarded with a beautiful beach where you can relax and cool off in the clear blue water.
5. BIG-GAME FISHING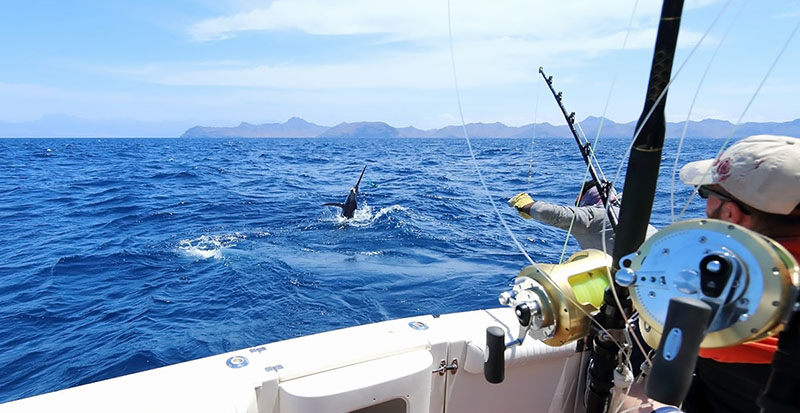 Cabo San Lucas is home to large populations of marlin, sailfish and tuna, making it a great place to experience big-game fishing. Even the most amateur of anglers will want to try their hand at catching one of the many large fish in the Los Cabos waters. Pisces Sportfishing is top big-game outfitter with one of the top fishing fleets in the area. With a large variety of boats, the size of trips can vary. With a reputation for respectful catch totals and conservation efforts, it offers anglers of all skill levels an exciting deep-sea fishing adventure. Plus, Pisces will deliver your catch to a local restaurant at the marina, where they will prepare it as you wish.
Are you an outdoor enthusiast looking for adventure? Contact us about our Los Cabos vacations and check out our SuperSale on all-inclusive getaways!
When you sail with Avalon Waterways, how you experience Europe depends entirely on you.
For a long-anticipated vacation to live up to your expectations, every detail needs to be flawless — and that can mean something different for everyone. With Avalon Waterways and Fox World Travel, ample choices allow you to tailor your voyage just the way you like it.
It starts from the moment you awaken. With beds that are perfectly positioned to face your Open-Air Balcony℠ — sliding glass that is both wall-to-wall and floor-to-ceiling — it may be tempting to stay in and order complimentary room service. Or maybe you're an early riser, ready to start the day with coffee and croissants before taking an invigorating stroll on the deck. Captivating views also accompany al fresco dining at the Sky Grill and through the glass-walled dining room, where four courses are presented in style.
In between these moments onboard — both relaxing and enriching — there are satisfying adventures on land designed around different styles of travel. Choose from Classic guided excursions, engage in hands-on Discovery activities that speak to your interests, or get moving with Active tours that keep you going all day long. Or simply take time to explore on your own — your Avalon Adventure Host℠ or Tour Manager on your Fox Group Vacation is available to point you in the right direction.
Tip: On select voyages along the Rhine, Rhône and Danube rivers, we can arrange outings that are equal parts Discovery and Active.
Take a look at just a few of the ways to experience Europe, and tell us what sparks your interest. We'll find the voyage that suits you best.
Heidelberg, Germany
As you'll learn on a Classic guided excursion to Heidelberg Castle that stands atop a hillside, these ancient ruins showcase different periods of German architecture and have an enormous wine barrel in their cellar. Or you may be drawn to the intellectual roots of this riverside university town and embark on an Active hike up Philosopher's Walk. This pathway has inspired centuries of poets and intellects with its sweeping views of Heidelberg.
Willemstad, Netherlands
In between marveling over windmills and canals as you cruise through Holland and Belgium, there are plenty of ways to deepen your connection with each destination. If the mood strikes, start your day in Willemstad on an early morning jog alongside your host. Explore the sights of this fortified town and later, decompress over an onboard cheese tasting that reflects all the depth and flavor of famed Dutch cheeses.
Budapest, Hungary
Bisected by the Danube, magical Budapest will capture your heart and stay with you forever. To experience its extraordinary sights, including the grand Castle District, you're spoiled for choice with a Classic excursion, an Active outing by bicycle, or a walking tour where you'll glean insider Hungarian phrases from your expert guide. Free time lets you follow your interests like sourcing the best local paprika or tasting rich cream cake under the gorgeous arches and ornate chandeliers of Gerbeaud Café.
Cologne, Germany
On a Rhine cruise between Basel and Amsterdam, you'll pass by beautiful swaths of Germany's emerald landscapes dotted with hilltop castles and storybook villages. In the 2,000-year-old city of Cologne, you have your pick: a Classic guided excursion through the Rhineland capital to view its Gothic architecture and famous twin-spired cathedral or a Discovery tour of its meaningful Jewish heritage sites.
Vienna, Austria
On a voyage that encompasses both Active and Discovery excursions, two days in Vienna are filled with possibilities — and plenty of time to experience it all. See the city on a guided jog or spend time peering behind the scenes of iconic attractions on an insider tour. Viewing Gustav Klimt's "Kiss" inside Belvedere Palace may appeal to first-timers, while repeat visitors may want to delve into the Habsburg family's private collection at the Museum of Fine Arts. You'll even have time to cultivate personal interests on an evening vineyard hike and a visit to a local heurigen (wine tavern) or by taking a turn conducting an orchestra before settling in for a classical waltz and operetta concert.

What you get out of your European river cruise depends entirely on how much of yourself you put into it. Let us take care of the details with Avalon Waterways so you can dedicate your time to experiencing the best of every moment.
How to Stay Longer: With Monograms, Avalon Waterways' sister company, you can enjoy multi-day stays before or after your river cruise that include a luxury hotel and guided activities.