Warm Thoughts and Fresh Madeleines
Greetings Everyone!
Winter is here in Wisconsin and its cold.  In the midst of a massive snowstorm I turn to food for warm thoughts.
One of my favorite things, when I am stuck inside is to bring out my old and dear pieces of cooking equipment, like my dearly loved and used Madeleine pans.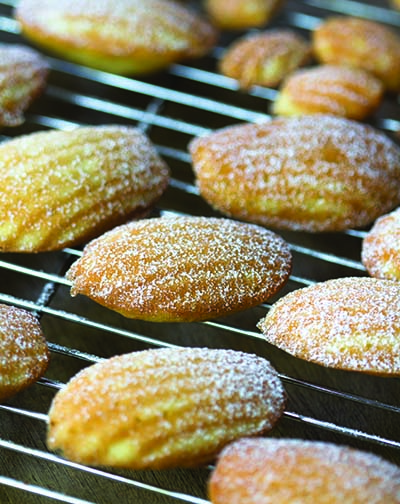 Speaking of Madeleines, have you ever tasted one? They're one of the first cookies/cakes of France. Some people like them fresh from the oven. Others enjoy them the next day—just a bit crispy with a cup of tea or coffee. The taste is ever so subtle with a hint of lemon in the tender cake. Some say the second bite of a Madeleine is always the best. I have to agree. I love the bit of crunch of the very end. The sweet cakes were mentioned by Proust in Swann's Way, the first Volume of Remembrance of Things Past. As he eats a madeleine, it brings back a wonderful childhood memory.
I'll never forget learning to make Madeleines at Le Cordon Bleu. It was in Basic Pastry class. We were only using whisks and hand implements so whisking the eggs and sugar to the ribbon stage was quite a task. We'd whisk and whisk, only for the Chef to come by and motion with his hands to whisk more and faster. At last, they were ready. An important part of the recipe is melting the butter, then letting it rest to allow the milk solids to settle to the bottom of the liquid. This makes the end result very tender. Essentially, it's making clarified butter or ghee. There were many times in class when I had those "lightbulb" moments — Those tiny tips and steps to take a preparation from good to great. Another very important step is pan preparation. When the Madeleines come out of the oven, the pan is rapped on the countertop to release the cakes. If the pan hasn't been properly prepared, the cakes will stick. Each cavity of the pan is carefully brushed with butter then dusted with flour and tapped out. It's a labor of love.
Each time I travel to Paris, I visit patisseries and restaurants when I can taste the best Madeleines. Some are fancy, others are more rustic. I enjoy every bite! Many cafes offer a tiny Madeleine on the side of the demi taste cup of cafe. Isn't the sweet? I love that part!
I also visit E. Delhillerin, when the pans and all pastry equipment is sold. And, where dear Julia Child shopped for her equipment during her time at Le Cordon Bleu to create her wonderful kitchen. Why do I have so many Madeleine pans at The Little French Bakery?
Because I can't leave without one! Now, pans are available with a non-stick finish, or even in Silicone. I still go for the tin version which are simply wiped clean after each use.
In October, I'll be returning to Paris with a group. We'll taste, and shop our way around the city including hands-on cooking classes, demos and incredible walking tours of tiny foods shops and treasures. I'll take you into E. Dehillerin to shop and see the selection of pans, culinary tools. There is limited space on the tour, so I can give my guests individual help with selecting equipment and navigating the sales process. I so hope you'll join me! I'm sharing my Madeleine recipe with you so you can also enjoy this delectable snack. I hope to see you in October. Bon Appetit!
Susan
Madeleine Recipe
---
Susan Holding founded The Little French Bakery in 1999 in rural North Freedom, Wisconsin. The studio is home to hands-on style cooking classes and Susan's commercial kitchen, where she prepares special-order items. She enjoys cooking, baking, and exploring the world of food, travel and life in general.