Meet Your Tour Manager: Rachel Couillard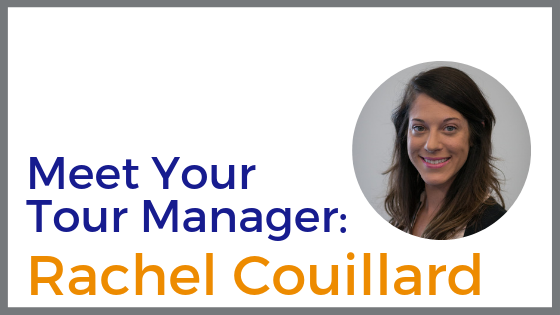 Who we are is an ever-changing entity that is fueled by our life experiences and the connections we make with the people that come into our lives.
Rachel tackles every day with this attitude accompanied by a goal to experience something new, be it food, friends, culture or language. "I strive to live a big life filled with adventure, constantly pushing to learn something new about the world and about myself every day," said Couillard.  Working as a Tour Manager for Fox World Travel, Rachel gets to live her dream by sharing incredible experiences with clients.
Rachel has eight years of experience in many facets of the hospitality and fine dining industries including operations, sales, marketing and event planning that she brings to every trip. She has a Bachelors of Science in English Literature with a Minor in Business in 2010 from the University of Wisconsin – Milwaukee.
Outside of her current role in Group Travel Operations, she is also currently pursuing a Technical Degree in Web Design and Development with a Certificate in Creating Content for the Web and training to become certified to Teach English as a Second Language.  "I recently put my new tech skills to work to develop a travel blog for myself to fuel my passion for photography and travel writing," said Couillard.
Rachel has a great interest in fun & sun destinations in part to her scuba experiences growing up.  She also grew up on a horse farm in Northeast Wisconsin which fostered a life-long passion for all types of outdoor adventures. "I am looking forward to expanding my travel experience this year by taking my first trip to Europe for a land tour through Germany followed by skiing in the Austrian Alps in Tyrol," said Couillard.
If you would like to travel with a Fox Tour Manager like Rachel, take a look at our upcoming Fox Group Vacations.