Top 10 Honeymoon Hotspots
Your honeymoon is a time to celebrate a new phase of life together. It should reflect the special interests you share as a couple.  This list is just a snapshot of the many honeymoon destinations around the world. 
1.  Hawaii Honeymoon – Dramatic coastlines, volcanoes, green forests, native Hawaiian culture, tropical breezes, white sand beaches, spectacular resorts. This is the magic that brings couples to Hawaii for the best in honeymoon getaways.
2.  Mexico Honeymoon – A vast country with enough variety to please all. Bask in the sun at posh resorts along the Baja coast in Puerto Vallarta, Ixtapa or Los Cabos, or take in the beauty of white sand beaches on the Yucatan Peninsula in hot spots like Cancun/Riviera Maya and Cozumel. All-Inclusive resorts are abundant in throughout Mexico.
3.  Jamaica Honeymoon – Passion is inevitable on this tropical paradise island. Jamaica is the place if you are looking for non-stop nightlife. If the bar scene isn't for you, stay in one of Jamaica's all-inclusive adults-only resorts. If you are a nature lover, take a leisurely bamboo raft trip or explore the many caves and waterfalls that abound in its green forests.
Consult a Jamaica Travel Specialist
4.  Italy Honeymoon – Italy is one of the top picks for Europe honeymoon locations. No wonder, it's the land of Amore! From the Northern Alps and lake country to Rome and the Almalfi Coast, Italy has everything for a romantic and classy honeymoon.
5.  St. Lucia Honeymoon – A bit of France, a bit of Britain, and a nature-lovers paradise including a volcano. Great snorkeling in clear, blue warm waters. Sip a cool tropical drink in your hammock. Walk through a rain forest while viewing the ocean. Truly a newlywed's paradise.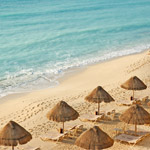 6.  Dominican Republic Honeymoon – The Dominican Republic has become a beautiful, affordable island destination. Being a larger island, that doesn't just focus on tourism, you can get some great deals. There are many all-inclusives that will meet the needs of most couples.
7.  Tahiti Honeymoon – How do you describe paradise? Many call it Tahiti! With many islands to choose from, including favorites Bora Bora and Moorea. From its natural beauty to its Polynesian hospitality. If you do not want to share your new spouse with anyone, this is the place to be. Even its resorts are designed for your love to burn and grow.
8.  Fiji Honeymoon – Fiji has it all if you are looking to fill that image of white powder beaches with beautiful palm trees, green mountains sweeping to the sea, warm tropical breezes, and lots of secluded resorts scattered among its 300+ islands.
9.  Spain Honeymoon – Spain is a location full of energy, but still with the laid-back Mediterranean style that any couple could love on their honeymoon. Fall in love with the art and gardens of Madrid, or bask in the Barcelona sun. From the sand to the sangrias, Spain is full of the timeless elegance that's sure to make for a dreamy honeymoon getaway.
Consult a Spain and Portugal Travel Specialist
10.  Turks and Caicos Islands Honeymoon – Turks and Caicos is the perfect romantic getaway for couples looking for exclusivity and seclusion. It is less developed and more upscale than many other spots in the Caribbean. Made up of forty islands, eight of which are inhabited gives the islands an intimate feel. Activities for couples are limitless, from snorkeling and scuba diving to bird watching and horseback riding. Be sure to see the sunset over Grace Bay, famous for the elusive "green flash" at sunset. This split-second burst of emerald light sometimes happens along the horizon on a clear day and is sure to make an unforgettable honeymoon experience.
Consult a Turks and Caicos Islands Travel Specialist Today
For even more honeymoon destinations, click here.
Make sure your special trip is perfect:  Honeymoon Planner